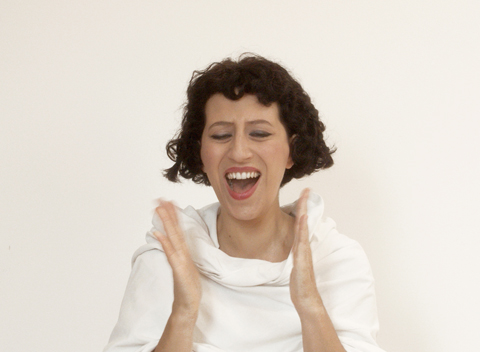 TANZ SEDIMENT (Self-Portrait of Madness)
Installation, 2019
sound, video - stereo, HD, 6'38'' loop
drawings - graphite on paper, dimensions variable


Exhibited at:
"Ultrasanity. On Madness, Sanitation, Antipsychiatry and Resistance"
SAVVY Contemporary Berlin, from 14th December 2019 to 2nd February 2020
Group Exhibition curated by Bonaventure Soh Bejeng Ndikung, Elena Agudio
in cooperation with IfA




Taking inspiration from Tarantella music and dance, in her new work "Tanz Sediment" Alessandra Eramo explores the freedom that resists in the female voice by creating a trance music ritual, evoking sonic memories like a river sediment. She traces the wild, natural and vulnerable voice, which is not only an instrument, but it is an archaic sonic territory to be disclosed in the modern human body. An hypnotic sound collage that includes extended solo voice, female choir and glossolalia, a traditional Apulian female work song, frame drum, the text in ancient Greek from the Euripides tragedy "The Bacchantes", field recordings at a wild park and former deserted industrial area in Berlin.
Originally commissioned by
Deutschlandfunk Kultur, Klangkunst Program 2020
as
radiophonic work
, "Tanz Sediment" materialised as a
multimedia installation
presented at SAVVY Contemporary in the group exhibition "Ultrasanity" in Berlin.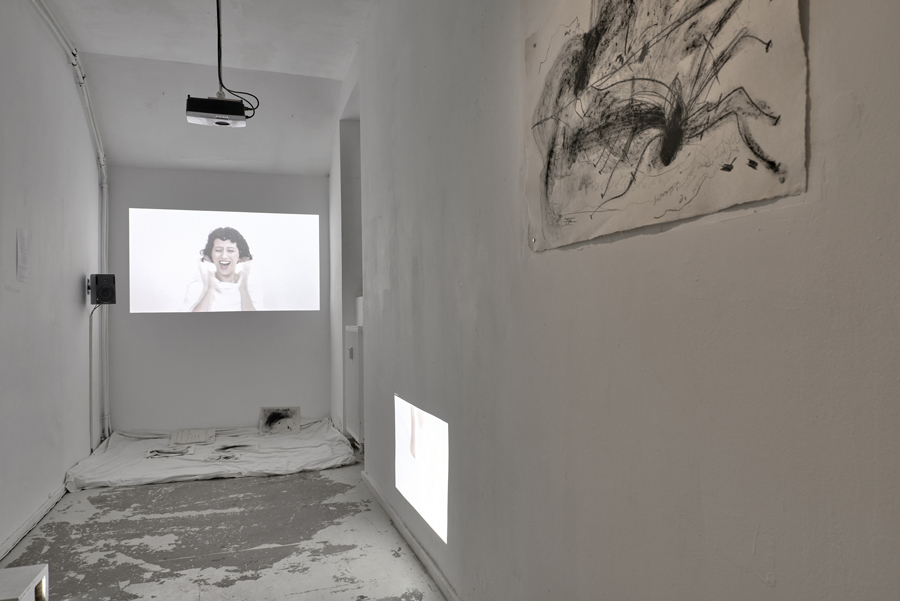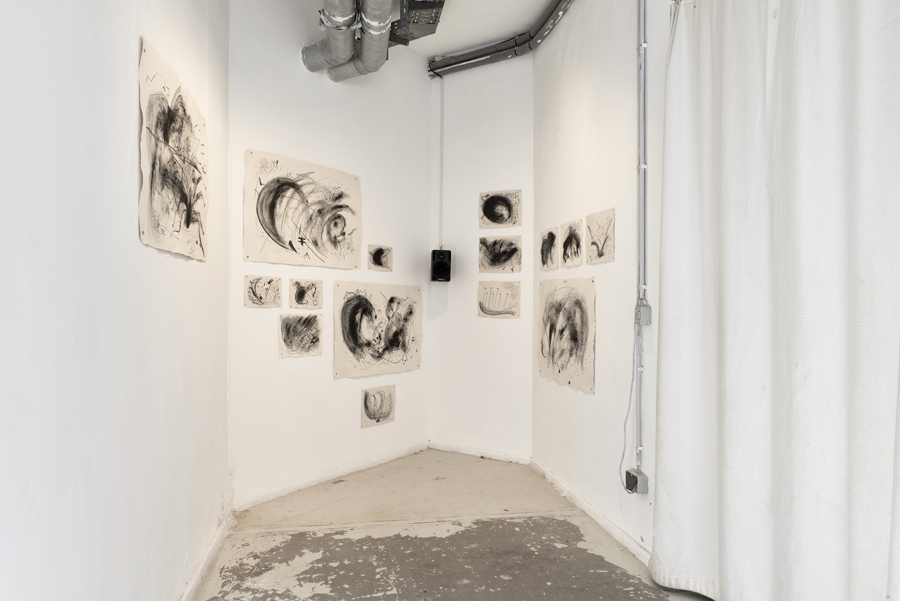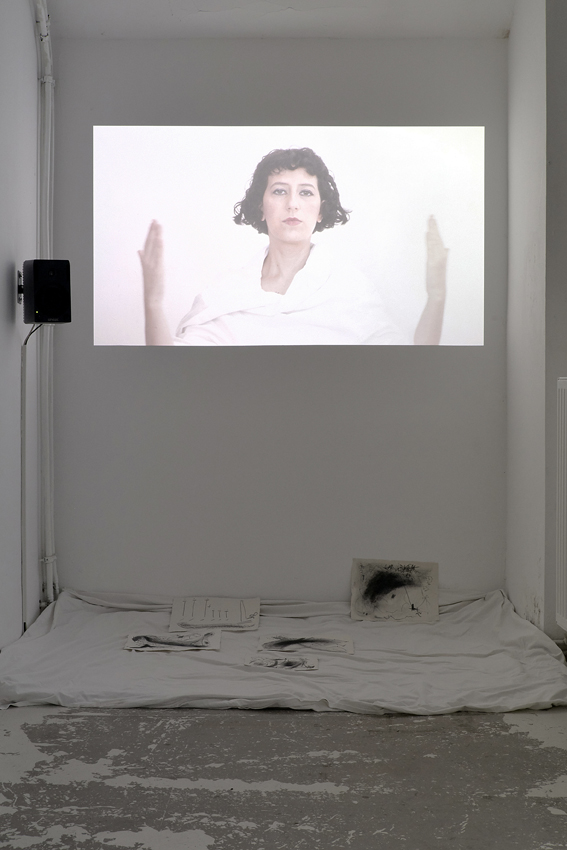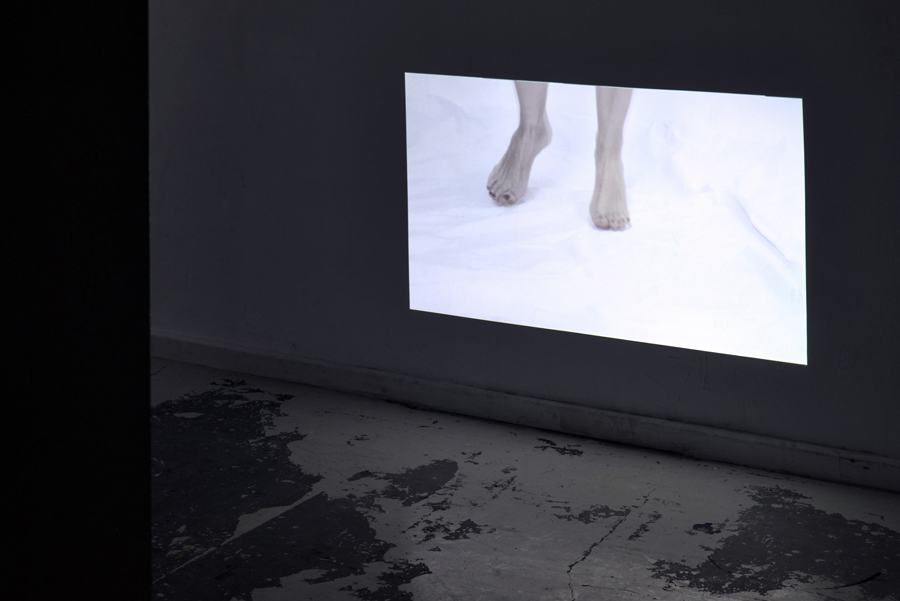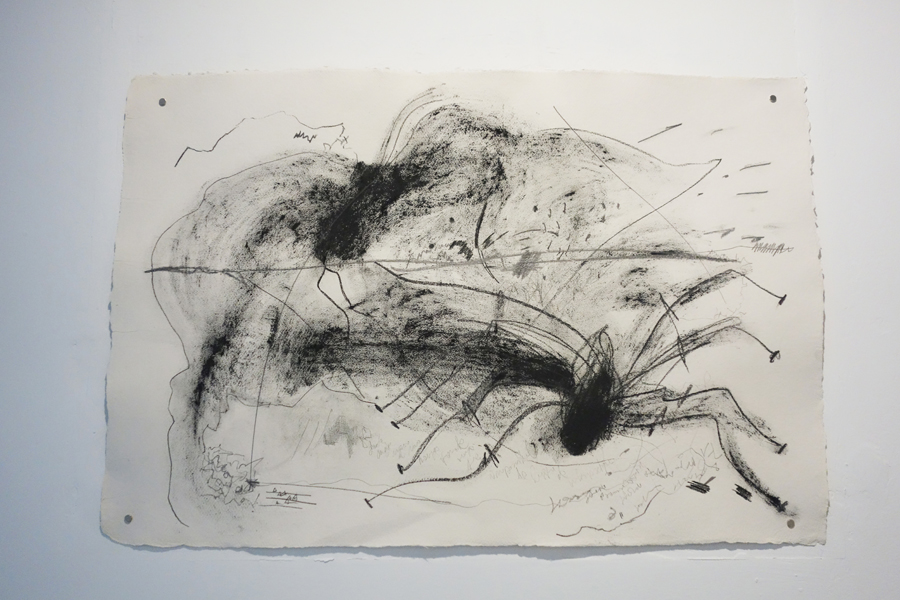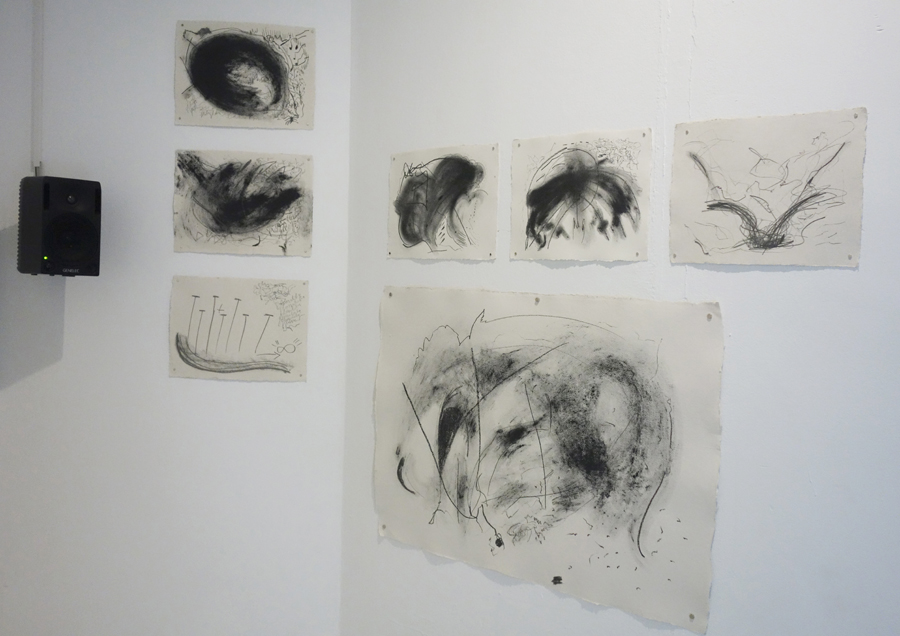 Photos by Hannes Wiedemann, Alessandra Eramo
CREDITS
:
Video, Composition, Voice and Electronics: Alessandra Eramo
Frame Drum: Antonino Secchia
Voice in ancient Greek: Eirini Fountedaki
Voice in Salentinian dialect: Sonia Martina
Choir: Inma Bernlis, Alessandra Eramo, Ianni Luna, Morena Miceli, Sonia Noya
The original
radiophonic work
includes:
extended solo voice
female choir
glossolalia
traditional Apulian women work song "Fimmene Fimmene"
frame drum
traditional Sicilian song "Cimbalu d'Amuri" (Ottava Siciliana)
the text in ancient Greek from the Euripides tragedy "The Bacchantes"
field recordings at a wild park and former deserted industrial area in Berlin
field recordings of the sound of cicadas in the fields in Puglia
INSPIRATIONS, STATEMENT
:
Dancing bacchantes / unrestrained and free movements of body and voice / healing ritual through dance and music / tarantella music and tarantism ritual / liberated body / a space of freedom / being born and raised in Taranto, a very difficult place in Puglia, Southern Italy / body knowledge and memory
Tarantism is a form of disease, inner agitation and "madness" that was common in Puglia in Southern Italy until the 1960s, resulting from the bite of the tarantula spider, often occurring to women. The women organized healing rituals to free their bodies from the symbolic spider poison through frenetic Tarantella music and dance, giving voice to suffering and repression, as a form of rebellion and autonomy of the illiterate subaltern community in one of the most disadvantaged parts of Italy. Tarantism is extinct but it remains in my consciousness through the experience and memory of songs. In amazement, I've been observing my body through videos or photos taken while I sing, my deformed face, gestures, grimaces, postures, breath, with the mouth wide open. My singing body becomes a visual trace of a sonic event, an inscribed memory. I sing an oppression and I'm free again.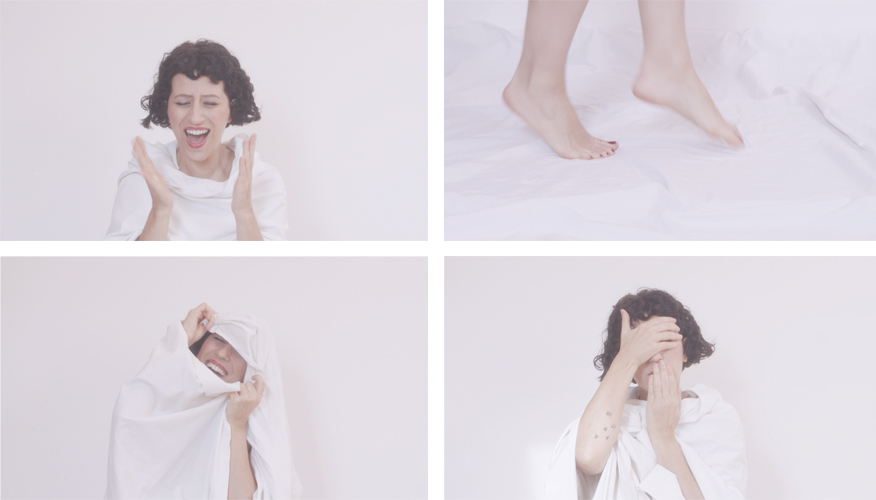 I have been observing and reflecting on the visual archive material such as the images from Iconography of the Salpêtrière and the Tarantate women photos taken in Puglia in the 60s by anthropologists and ethnomusicologists: in "Tanz Sediment" I don't want to re-present that iconography of the "hysterical" women. I don't want to reproduce in any way that iconography made by anthropologists or doctors. I feel that I have embodied those strong images and experiences through my gestures, singing and dancing in the videos, the drawings and the sound. In "Tanz Sediment" I'm rather interested in performing a timeless ritual, my own ritual, I would like to create a space of freedom organized and defined by my own look as a woman and artist.
For the videos, I'm using a white sheet like dressing my body and partly my face. Also, I'm dancing Tarantella with my feet on a white sheet. The white sheet was used during Tarantism healing rituals in Puglia as sacred perimeter, it was the stage and dance floor to move on it. Typical Tarantella dance steps simulate the Tarantula spider movements, also the steps evoke to crush the spider under the feet.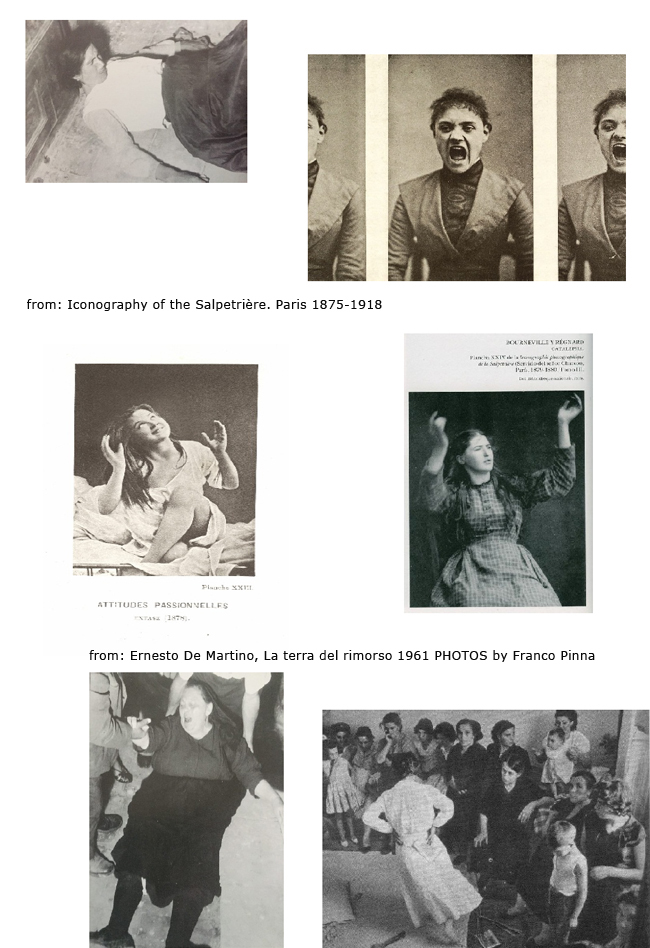 My drawings are abstract, gestural lines and surfaces, as a graphic score, they are the trace of a frenetic dance and singing.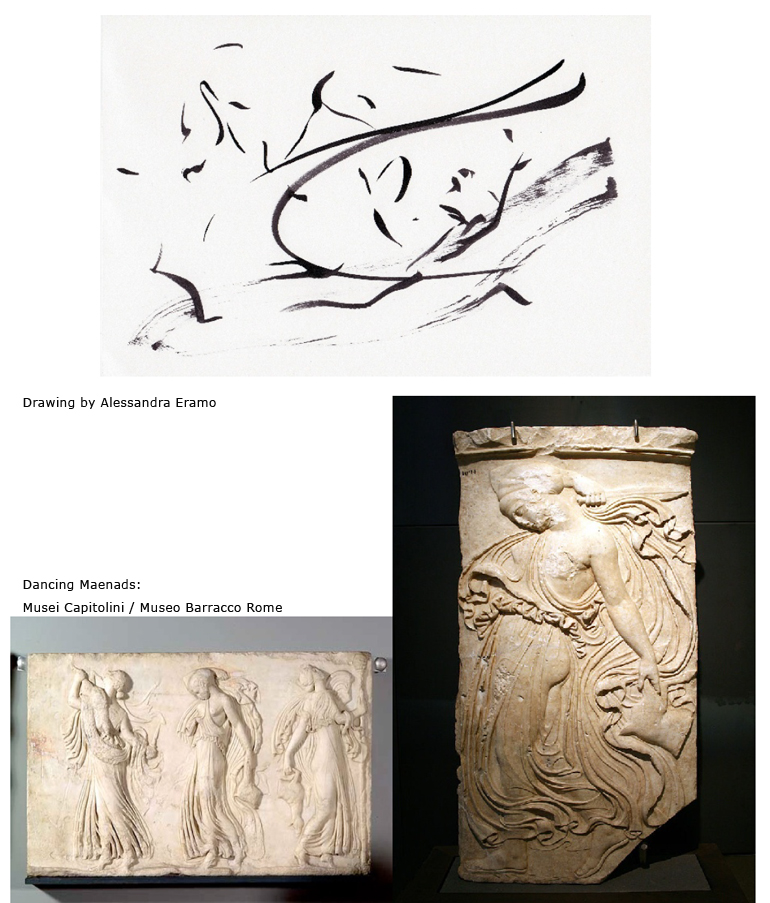 For my drawings, I've choosen a handmade paper whose texture is similar to cotton fabric. This paper evokes the white sheet I've been using in the video and in the installation.