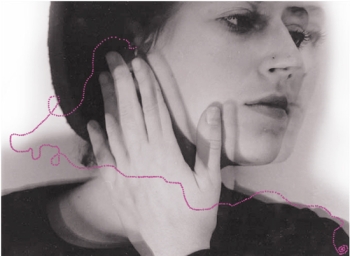 "Fantastic work. (...) Sounds almost like a musique concrète collage
made from Folkways LP about the removal of the larynx. But it's not!"
The Wire (UK)




"She embodies a noisy experimentation, in a crude art without concessions"
Revue & Corrigée (FR)
"The illegitimate child of the early Moondog"
Skug Magazine (AT)

Alessandra Eramo (*1982 Taranto, Italian/German) is an artist, vocalist and composer based in Berlin. She creates performative works using voice, sound, text and other visual media, exploring latent acoustic territories of the human voice and noise as socio-political matter. The essence of her practice is to destabilize the normal expectations of the voice to trace a new sense of beauty in sound and language. Blurring the line between performance art, experimental music and sound poetry, her artistic production often adopts relational aesthetics and addresses questions about memory and identity.

She was trained in classical singing, piano and music theory since an early age, she studied at the Academy of Fine Arts in Milan and Stuttgart and completed her Masters Degree in Performance Studies at the Faculty of Philosophy at the Ca' Foscari University in Venice.

She has performed and exhibited at many electronic music festivals, art galleries and museums, theatres and independent art centers, such as: 6th Thessaloniki Biennale of Contemporary Art, Tempo Reale Festival Florence, Radial System Berlin, Heroines of Sound Festival, FLUSSI Media Arts Festival Avellino, Iklectik London, PACT Zollverein Essen, Kino Šiska Ljubljana/ARS National Radio Slovenia, Electronic Voice Phenomena Think Thank/Liverpool Biennial 2013, Neue Musik St. Ruprecht Vienna, Roulette New York, Audiorama Stockholm, Italian Pavilion in the World/54th Venice Biennale.

In 2017 she is invited artist to the 6th Thessaloniki Biennale of Contemporary Art to exhibit Migratory Echoes, her performance/installation project based on interviews to migrants about the sounds of their "Homeland", investigating the idea of identity and belonging to real or imaginary places. She took part to the artistic residency of Tsonami Festival Valparaìso (Chile) in 2016 where she presented 3 Places Where I Can Sing: Songs for Valparaíso, a performance in the public space of Valparaíso, connecting the sonic memory of the inhabitants and Eramo through vocal interventions in various places of the city specifically selected for their symbolic and political connotation.

Co-founder of "Corvo Records - vinyl & sound art production" where she released her solo LP Come ho imparato a volare, a composition based on the idea of methamorphosis where Eramo included her recordings of larvae transforming into flies and the field recording of a women choir during the eastern procession rites in Southern Italy.
In 2014 she released the 7" Roars Bangs Booms, a composition based on her vocal performative work presented at the Museum FLUXUS+ in Potsdam about the onomatopoeic words from the Futurist Manifesto "The Art of Noises" by Luigi Russolo.

In 2015 she is vocal performer for Appunti del Passaggio by Maria Iorio & Raphaël Cuomo (Premio Furla 2015), a film about the biopolitical regime in the 1960s that southern Italian migrants bodies were forced through when they arrived at the Swiss border. The film was exhibited at the Fondazione Querini Stampalia, among others.

As recipient of grants from Berlin Senate, IfA and the Goethe Institut Napoli in 2013-2014 she curates and participates to the residency and sound art exhibition "Correnti Seduttive" in her hometown Taranto (with Peter Cusack, Georg Klein, Steffi Weismann and Wendelin Büchler), a place with the highest level of industrial pollution in Europe. Here she creates her sound installation Se Dio Vuole, a dedication to the beauty and destruction of the sea in Taranto. From this work she developed a book-document together with the music journalist Tobias Fischer, published in 2015.

She's been Artist in Residence at EMS Stockholm with the support of the Italian Culture Institute of Stockholm, EMPAC Troy (NY) - Rensselaer Polythechnic Institute with the electronic musician Doug Van Nort, and at Harvestworks Digital Media Arts Center New York, where she creates Lauter Spannung a multichannel audiovisual work for voice and field recordings.

Alongside her solo work, she has collaborated with many acclaimed composers, choreographers and artists including Zorka Wollny, Brandon LaBelle, Noha Ramadan, Ines Lechleitner, Marcus Bastos, Tomomi Adachi, Seiji Morimoto, and Marta Zapparoli.

Since 2015 she is a member of the artists' group and project space Errant Sound in Berlin.